Tour Utah: Ben Hermans, etapa y liderato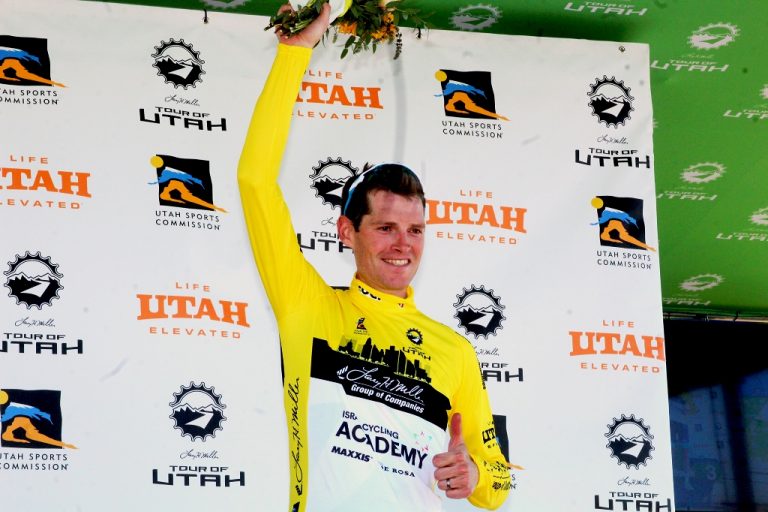 Ben Hermans (Israel Cycling Academy) ha vencido en la segunda etapa del The Larry H.Miller Tour of Utah (2.HC, Estados Unidos), de 135,8 kilómetros entre Brigham City y Powder Mountain Resort.
Hermans ha sido el más fuerte en la llegada, 11,8 kilómetros al 9,7%, y, de paso, es el nuevo líder.
La tercera etapa unirá Antelope Island con North Salt Lake, 138,3 kilómetros, con un final sin respiro y que culmina cuesta arriba.
Etapa 2:
1 HERMANS Ben BEL ISRAEL CYCLING ACADEMY 03:37:44
2 PICCOLI James CAN ELEVATE – KHS PRO CYCLING 03:38:04
3 EG Niklas DEN TREK – SEGAFREDO 03:38:19
4 STETINA Peter USA TREK – SEGAFREDO 03:38:42
5 DOMBROWSKI Joseph Lloyd USA EF EDUCATION FIRST 03:39:10
6 MURPHY Kyle USA RALLY UHC CYCLING 03:39:15
7 BRITTON Robert CAN RALLY UHC CYCLING 03:39:20
8 ALMEIDA João POR HAGENS BERMAN AXEON 03:39:38
9 BADILATTI Matteo SUI ISRAEL CYCLING ACADEMY 03:40:21
10 BOWDEN Scott AUS TEAM BRIDGELANE 03:40:36
11 BONGIORNO Francesco Manuel ITA NERI SOTTOLI SELLE ITALIA KTM 03:40:43
12 CRADDOCK G Lawson USA EF EDUCATION FIRST 03:40:54
13 EASTER Griffin USA 303 PROJECT 03:40:54
14 MANNION Gavin USA RALLY UHC CYCLING 03:41:17
15 QUINTANA Dayer COL NERI SOTTOLI SELLE ITALIA KTM 03:41:33
16 SWIRBUL Keegan USA FLOYD'S PRO CYCLING 03:42:23
17 SANTOS MORENO Efren MEX CANEL'S – SPECIALIZED 03:42:31
18 HOEHN Alex USA AEVOLO 03:42:34
19 LOPEZ PEREZ Juan Pedro ESP KOMETA CYCLING TEAM 03:43:01
20 VERMAERKE Kevin USA HAGENS BERMAN AXEON 03:43:07
21 VOLLMER Andrew USA AEVOLO 03:43:15
22 MORTON Lachlan AUS EF EDUCATION FIRST 03:43:25
23 BOIVIN Guillaume CAN ISRAEL CYCLING ACADEMY 03:43:36
24 FRAYRE MOCTEZUMA Eder MEX 03:43:44
25 ANDERSON Edward USA HAGENS BERMAN AXEON 03:44:56
26 TVETCOV Serghei ROU FLOYD'S PRO CYCLING 03:45:08
27 FIORELLI Filippo ITA NIPPO – VINI FANTINI – FAIZANE' 03:45:14
28 NIV Guy ISR ISRAEL CYCLING ACADEMY 03:45:23
29 DE LUNA DAVILA Flavio Alejandro MEX 303 PROJECT 03:45:23
30 FONT MAS Bernat ESP 303 PROJECT 03:45:37
31 MCCORMICK Hayden NZL TEAM BRIDGELANE 03:45:37
32 SCHÖNBERGER Sebastian AUT NERI SOTTOLI SELLE ITALIA KTM 03:46:17
33 FORTUNATO Lorenzo ITA NERI SOTTOLI SELLE ITALIA KTM 03:46:17
34 MOSCA Jacopo ITA TREK – SEGAFREDO 03:46:17
35 SANCHEZ GUARIN Oscar Eduardo COL CANEL'S – SPECIALIZED 03:46:24
36 ALARCON CARES Pablo Andrés CHI CANEL'S – SPECIALIZED 03:46:25
37 BAUER Dominik GER TEAM DAUNER | AKKON 03:47:10
38 SUNDERLAND Dylan AUS TEAM BRIDGELANE 03:48:04
39 VELASCO Simone ITA NERI SOTTOLI SELLE ITALIA KTM 03:48:04
40 ZACCANTI Filippo ITA NIPPO – VINI FANTINI – FAIZANE' 03:48:15
41 DANIEL Gregory USA DC BANK PRO CYCLING TEAM 03:48:32
42 SCHUNK Conor USA 03:48:41
43 CHEYNE Jordan CAN ELEVATE – KHS PRO CYCLING 03:49:04
44 COWAN Alexander CAN FLOYD'S PRO CYCLING 03:49:55
45 EARLE Nathan AUS ISRAEL CYCLING ACADEMY 03:50:10
46 EASTER Cullen USA 303 PROJECT 03:50:34
47 NEWKIRK Isaiah USA 303 PROJECT 03:51:28
48 ZARDINI Edoardo ITA NERI SOTTOLI SELLE ITALIA KTM 03:51:32
49 THIBAULT Jean-Denis CAN DC BANK PRO CYCLING TEAM 03:51:44
50 VODICKA Camden USA WILDLIFE GENERATION PRO CYCLING P / B MAXXIS 03:52:54
51 SANTAROMITA Ivan ITA NIPPO – VINI FANTINI – FAIZANE' 03:53:52
52 ORONTE Emerson USA RALLY UHC CYCLING 03:53:56
53 CASTILLO SOTO Ulises Alfredo MEX ELEVATE – KHS PRO CYCLING 03:54:37
54 WOLFE Benjamin USA ARAPAHOE | HINCAPIE POWERED BY BMC 03:54:40
55 BASSETT Stephen USA WILDLIFE GENERATION PRO CYCLING P / B MAXXIS 03:54:40
56 BICKMORE Cade USA AEVOLO 03:54:40
57 ROJAS CAMPOS Gabriel Francisco CRC AEVOLO 03:55:24
58 REVARD Thomas USA HAGENS BERMAN AXEON 03:55:43
59 HOWES Alex USA EF EDUCATION FIRST 03:55:43
60 MCCABE Travis USA FLOYD'S PRO CYCLING 03:56:04
61 DEBEAUMARCHE Nicolas FRA TREK – SEGAFREDO 03:56:11
62 OIEN Justin Alexander USA ARAPAHOE | HINCAPIE POWERED BY BMC 03:56:23
63 LINDORFF Tyler AUS TEAM BRIDGELANE 03:56:23
64 EISENHART Taylor (T.J.) USA ARAPAHOE | HINCAPIE POWERED BY BMC 03:56:23
65 PUTT Tanner USA ARAPAHOE | HINCAPIE POWERED BY BMC 03:56:23
66 MAGNER Tyler USA RALLY UHC CYCLING 03:56:26
67 SIMPSON George USA ELEVATE – KHS PRO CYCLING 03:56:26
68 ZIMMER Matthew USA 03:56:26
69 BACA Tony MEX 303 PROJECT 03:56:54
70 FLAKSIS Andzs LAT ARAPAHOE | HINCAPIE POWERED BY BMC 03:57:11
71 AVILA VANEGAS Edwin Alcibiades COL ISRAEL CYCLING ACADEMY 03:57:32
72 HATSUYAMA Sho JPN NIPPO – VINI FANTINI – FAIZANE' 03:57:47
73 CANOLA Marco ITA NIPPO – VINI FANTINI – FAIZANE' 03:57:47
74 SCHREURS Hamish NZL ISRAEL CYCLING ACADEMY 03:58:13
75 MARENGO Umberto ITA NERI SOTTOLI SELLE ITALIA KTM 03:58:42
76 LONARDI Giovanni ITA NIPPO – VINI FANTINI – FAIZANE' 03:58:42
77 LEPLINGARD Antoine FRA DC BANK PRO CYCLING TEAM 03:58:50
78 ELLSAY Nigel CAN RALLY UHC CYCLING 03:59:23
79 RICE Michael AUS HAGENS BERMAN AXEON 03:59:23
80 HUFFMAN Evan USA RALLY UHC CYCLING 03:59:23
81 FLAUTT Oliver USA TEAM DAUNER | AKKON 03:59:23
82 MCGILL Scott USA 03:59:29
83 LARA CARBAJAL Francisco MEX CANEL'S – SPECIALIZED 03:59:41
84 RHIM Brendan USA ARAPAHOE | HINCAPIE POWERED BY BMC 03:59:49
85 GRANIGAN Noah USA FLOYD'S PRO CYCLING 03:59:49
86 DAVIS Cole USA HAGENS BERMAN AXEON 03:59:49
87 CLARKE Jonathan AUS FLOYD'S PRO CYCLING 03:59:52
88 TOOVEY Ayden AUS TEAM BRIDGELANE 04:00:03
89 WHELAN James AUS EF EDUCATION FIRST 04:00:03
90 BRUNNER Eric USA AEVOLO 04:00:09
91 BRYON Miguel USA ARAPAHOE | HINCAPIE POWERED BY BMC 04:00:32
92 RODRIGUEZ VICTORIA Jose Alfredo MEX ELEVATE – KHS PRO CYCLING 04:00:41
93 PALMA DAJUI Leonel MEX CANEL'S – SPECIALIZED 04:00:41
94 YOUNG Eric USA ELEVATE – KHS PRO CYCLING 04:00:41
95 CHANCE Maxx USA WILDLIFE GENERATION PRO CYCLING P / B MAXXIS 04:00:41
96 ROSS Kent USA WILDLIFE GENERATION PRO CYCLING P / B MAXXIS 04:00:41
97 JEAN Emile CAN FLOYD'S PRO CYCLING 04:00:41
98 BOARDMAN Samuel USA WILDLIFE GENERATION PRO CYCLING P / B MAXXIS 04:00:41
99 MAMOS Philipp GER TEAM DAUNER | AKKON 04:00:57
100 THURAU Sven GER TEAM DAUNER | AKKON 04:01:28
101 STEPHENS Austin USA 303 PROJECT 04:02:47
102 GULLICKSON Finn USA WILDLIFE GENERATION PRO CYCLING P / B MAXXIS 04:03:14
103 HEMING Miká GER TEAM DAUNER | AKKON 04:04:08
104 PRADO JUAREZ Ignacio MEX CANEL'S – SPECIALIZED 04:04:42
105 CORTE CORDERO Eduardo MEX CANEL'S – SPECIALIZED 04:04:43
106 SAMUEL Travis CAN DC BANK PRO CYCLING TEAM 04:04:58
107 BASSETTI Samuel USA ELEVATE – KHS PRO CYCLING 04:05:48
108 PAVLIČ Marko SLO DC BANK PRO CYCLING TEAM 04:05:59
109 HEIDER Christopher GER TEAM DAUNER | AKKON 04:09:13
110 KIRBY Quinten USA WILDLIFE GENERATION PRO CYCLING P / B MAXXIS 04:09:53
REIJNEN Kiel USA TREK – SEGAFREDO
HARPER Chris AUS TEAM BRIDGELANE
COOPER Joseph NZL TEAM BRIDGELANE
General:
1 HERMANS Ben BEL ISRAEL CYCLING ACADEMY 07:10:07
2 PICCOLI James CAN ELEVATE – KHS PRO CYCLING 07:10:33
3 EG Niklas DEN TREK – SEGAFREDO 07:10:59
4 STETINA Peter USA TREK – SEGAFREDO 07:11:17
5 DOMBROWSKI Joseph Lloyd USA EF EDUCATION FIRST 07:11:40
6 MURPHY Kyle USA RALLY UHC CYCLING 07:11:42
7 ALMEIDA João POR HAGENS BERMAN AXEON 07:11:53
8 BRITTON Robert CAN RALLY UHC CYCLING 07:11:54
9 CRADDOCK G Lawson USA EF EDUCATION FIRST 07:13:03
10 BADILATTI Matteo SUI ISRAEL CYCLING ACADEMY 07:13:05
11 BOWDEN Scott AUS TEAM BRIDGELANE 07:13:15
12 EASTER Griffin USA 303 PROJECT 07:13:30
13 BONGIORNO Francesco Manuel ITA NERI SOTTOLI SELLE ITALIA KTM 07:13:44
14 MANNION Gavin USA RALLY UHC CYCLING 07:13:47
15 QUINTANA Dayer COL NERI SOTTOLI SELLE ITALIA KTM 07:14:23
16 SWIRBUL Keegan USA FLOYD'S PRO CYCLING 07:14:55
17 HOEHN Alex USA AEVOLO 07:15:07
18 VERMAERKE Kevin USA HAGENS BERMAN AXEON 07:15:44
19 MORTON Lachlan AUS EF EDUCATION FIRST 07:16:01
20 BOIVIN Guillaume CAN ISRAEL CYCLING ACADEMY 07:16:07
21 LOPEZ PEREZ Juan Pedro ESP KOMETA CYCLING TEAM 07:16:08
22 FRAYRE MOCTEZUMA Eder MEX 07:16:40
23 TVETCOV Serghei ROU FLOYD'S PRO CYCLING 07:17:29
24 VOLLMER Andrew USA AEVOLO 07:17:39
25 ANDERSON Edward USA HAGENS BERMAN AXEON 07:17:47
26 SANTOS MORENO Efren MEX CANEL'S – SPECIALIZED 07:17:57
27 MCCORMICK Hayden NZL TEAM BRIDGELANE 07:18:22
28 FIORELLI Filippo ITA NIPPO – VINI FANTINI – FAIZANE' 07:18:26
29 SCHÖNBERGER Sebastian AUT NERI SOTTOLI SELLE ITALIA KTM 07:19:05
30 ALARCON CARES Pablo Andrés CHI CANEL'S – SPECIALIZED 07:19:25
31 BAUER Dominik GER TEAM DAUNER | AKKON 07:20:13
32 NIV Guy ISR ISRAEL CYCLING ACADEMY 07:20:44
33 SUNDERLAND Dylan AUS TEAM BRIDGELANE 07:20:50
34 FORTUNATO Lorenzo ITA NERI SOTTOLI SELLE ITALIA KTM 07:20:59
35 VELASCO Simone ITA NERI SOTTOLI SELLE ITALIA KTM 07:21:06
36 DANIEL Gregory USA DC BANK PRO CYCLING TEAM 07:21:24
37 MOSCA Jacopo ITA TREK – SEGAFREDO 07:21:34
38 SANCHEZ GUARIN Oscar Eduardo COL CANEL'S – SPECIALIZED 07:22:08
39 DE LUNA DAVILA Flavio Alejandro MEX 303 PROJECT 07:23:00
40 EARLE Nathan AUS ISRAEL CYCLING ACADEMY 07:23:22
41 FONT MAS Bernat ESP 303 PROJECT 07:23:24
42 SCHUNK Conor USA 07:24:08
43 COWAN Alexander CAN FLOYD'S PRO CYCLING 07:24:50
44 ZACCANTI Filippo ITA NIPPO – VINI FANTINI – FAIZANE' 07:25:40
45 ZARDINI Edoardo ITA NERI SOTTOLI SELLE ITALIA KTM 07:26:01
46 CHEYNE Jordan CAN ELEVATE – KHS PRO CYCLING 07:26:21
47 SANTAROMITA Ivan ITA NIPPO – VINI FANTINI – FAIZANE' 07:27:00
48 BICKMORE Cade USA AEVOLO 07:28:00
49 HOWES Alex USA EF EDUCATION FIRST 07:28:21
50 MCCABE Travis USA FLOYD'S PRO CYCLING 07:28:34
51 MAGNER Tyler USA RALLY UHC CYCLING 07:29:25
52 CASTILLO SOTO Ulises Alfredo MEX ELEVATE – KHS PRO CYCLING 07:29:45
53 AVILA VANEGAS Edwin Alcibiades COL ISRAEL CYCLING ACADEMY 07:30:11
54 REVARD Thomas USA HAGENS BERMAN AXEON 07:30:18
55 ROJAS CAMPOS Gabriel Francisco CRC AEVOLO 07:30:22
56 CANOLA Marco ITA NIPPO – VINI FANTINI – FAIZANE' 07:30:49
57 LINDORFF Tyler AUS TEAM BRIDGELANE 07:31:25
58 MARENGO Umberto ITA NERI SOTTOLI SELLE ITALIA KTM 07:31:26
59 BASSETT Stephen USA WILDLIFE GENERATION PRO CYCLING P / B MAXXIS 07:31:29
60 ZIMMER Matthew USA 07:31:39
61 NEWKIRK Isaiah USA 303 PROJECT 07:32:12
62 WOLFE Benjamin USA ARAPAHOE | HINCAPIE POWERED BY BMC 07:32:14
63 RICE Michael AUS HAGENS BERMAN AXEON 07:32:31
64 RHIM Brendan USA ARAPAHOE | HINCAPIE POWERED BY BMC 07:32:31
65 DAVIS Cole USA HAGENS BERMAN AXEON 07:32:54
66 HATSUYAMA Sho JPN NIPPO – VINI FANTINI – FAIZANE' 07:33:25
67 TOOVEY Ayden AUS TEAM BRIDGELANE 07:33:28
68 EASTER Cullen USA 303 PROJECT 07:33:44
69 DEBEAUMARCHE Nicolas FRA TREK – SEGAFREDO 07:33:45
70 EISENHART Taylor (T.J.) USA ARAPAHOE | HINCAPIE POWERED BY BMC 07:33:51
71 PUTT Tanner USA ARAPAHOE | HINCAPIE POWERED BY BMC 07:33:54
72 SCHREURS Hamish NZL ISRAEL CYCLING ACADEMY 07:33:56
73 LONARDI Giovanni ITA NIPPO – VINI FANTINI – FAIZANE' 07:34:02
74 BACA Tony MEX 303 PROJECT 07:34:15
75 FLAKSIS Andzs LAT ARAPAHOE | HINCAPIE POWERED BY BMC 07:34:31
76 LARA CARBAJAL Francisco MEX CANEL'S – SPECIALIZED 07:35:22
77 OIEN Justin Alexander USA ARAPAHOE | HINCAPIE POWERED BY BMC 07:35:48
78 ORONTE Emerson USA RALLY UHC CYCLING 07:35:58
79 FLAUTT Oliver USA TEAM DAUNER | AKKON 07:36:35
80 MAMOS Philipp GER TEAM DAUNER | AKKON 07:36:37
81 PALMA DAJUI Leonel MEX CANEL'S – SPECIALIZED 07:36:38
82 SIMPSON George USA ELEVATE – KHS PRO CYCLING 07:36:44
83 VODICKA Camden USA WILDLIFE GENERATION PRO CYCLING P / B MAXXIS 07:36:44
84 HUFFMAN Evan USA RALLY UHC CYCLING 07:36:45
85 MCGILL Scott USA 07:37:03
86 GRANIGAN Noah USA FLOYD'S PRO CYCLING 07:37:09
87 WHELAN James AUS EF EDUCATION FIRST 07:37:24
88 CLARKE Jonathan AUS FLOYD'S PRO CYCLING 07:37:33
89 THIBAULT Jean-Denis CAN DC BANK PRO CYCLING TEAM 07:37:35
90 THURAU Sven GER TEAM DAUNER | AKKON 07:38:51
91 LEPLINGARD Antoine FRA DC BANK PRO CYCLING TEAM 07:39:58
92 BRUNNER Eric USA AEVOLO 07:40:26
93 ELLSAY Nigel CAN RALLY UHC CYCLING 07:41:14
94 ROSS Kent USA WILDLIFE GENERATION PRO CYCLING P / B MAXXIS 07:41:37
95 CHANCE Maxx USA WILDLIFE GENERATION PRO CYCLING P / B MAXXIS 07:41:40
96 RODRIGUEZ VICTORIA Jose Alfredo MEX ELEVATE – KHS PRO CYCLING 07:41:56
97 YOUNG Eric USA ELEVATE – KHS PRO CYCLING 07:42:46
98 STEPHENS Austin USA 303 PROJECT 07:43:20
99 BOARDMAN Samuel USA WILDLIFE GENERATION PRO CYCLING P / B MAXXIS 07:43:47
100 JEAN Emile CAN FLOYD'S PRO CYCLING 07:43:59
101 BRYON Miguel USA ARAPAHOE | HINCAPIE POWERED BY BMC 07:44:24
102 GULLICKSON Finn USA WILDLIFE GENERATION PRO CYCLING P / B MAXXIS 07:51:13